Trading Central is a certified global investment and financial research services provider with offices around the globe, and always there to support you around the clock.
Trading Central's solutions team provides dynamic trade strategies and technical analysis, a unique methodology backed by time-tested indicators against historical data to ensure a consistent trend is represented across intraday, monthly and long-term timeframes.
Trading Central's strategies and research successfully combine chartist and mathematical approaches to assess directional moves and price targets. The portfolio management team and trading experts deliver complex content in a format that is easy-to-read and to implement thanks to the clear levels and directional scenarios that can be used to execute trading strategies.
Trading Central's new and updated Research Platform offers the following features and more:
Personalized dashboard
Up to 5 watchlists
Full language control
Technical Analysis Education
Education on-demand
Below is a quick overview of the new Trading Central features, and where you can find them: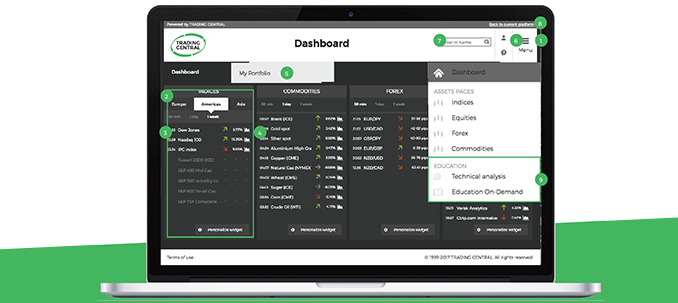 1. Menu – Easy way to find all the information helpful for you 2. Widget – Each widget contains all specific assets sorted by region or timeframe 3. Product view – View all details in just one click 4. Price Chart – The most recent chart of the selected product can be viewed here 5. Watchlist – Save products in your portfolio for easier access 6. Profile – Customize your platform 7. Quick Search – Easy way to find all favorites products 8. Back to the old version of the platform 9. Education – Tools and analysis that will help you along the way
To learn more about Trading Central, click play on the video below: